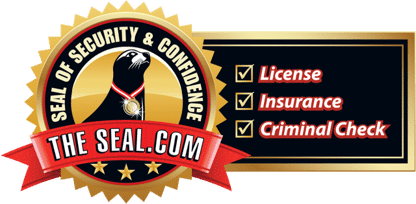 Why Look for the Seal?
Many companies who claim to be licensed and insured are not

Many companies who claim to perform criminal background checks on their employees do not

if you hire an unlicensed company and an employee hurts themselves on your property or your property is damaged your insurance company may deny the claim

You can be fined up to $5,000 for hiring an unlicensed contractor

Many criminals use their employment to find their next victim

Many crimes are committed up to six months after the service call
How is the Seal of Security and Confidence Different?
The Seal.com verifies license, insurance, and customer satisfaction

The Seal.com performs the background criminal and sex offender checks on the owner and the employees who interact with your family, home, or business

The Seal.com actually performs the background checks rather than just taking someone's word for it.

Employees are issued photo IDs confirming their background checks

Companies with the Seal of Security and Confidence can send you an email with a photo of its employee and proof of their background check so you know who you are opening your door for
Want Peace of Mind?
Choose this company with the Seal of Security and Confidence